Published on Jul 12, 2022
54 Male
presented with
1 week history of low back pain
B/L leg pain, worse (L). Reports left leg feels heavy.
7 days ago spoke to GP regarding right leg pain. Reported that the pain had been present for 6 days. GP prescribed codeine 15mg.
3 days later called 111. Was advised to visit A&E.
A&E Visit
Patient has a history of paranoid schizophrenia.
Subjective - Bowel and bladder stable, no saddle paresthesia.
Exam - tender SIJ, lumbosacral junction, no neurology.
Diagnosis - MSK pain, no red flags. Physio referral recommended.
Prescribed Naproxen and Omeprazole
3 days later, spoke with GP. GP prescribed codeine. Advised to walk.
Next day appt in FCP clinic.
Patient walked in using a 4 wheel walker. He had borrowed it from his Mother in law.
Had a high steppage gait on (L). A week ago was walking fine.
preferred to stand
complained of back pain and B/L leg pain
Reported 2 episodes of bowel incontinence. Soiled carpet. Reports no bladder incontinence.
Has long standing diarrhoea
Exam
unable to walk without walker
Poor (L) foot strength - whole foot
Also weak (R) foot
reduced sensation to light touch in (L) leg - lateral leg
absent knee and ankle jerks
Impression: Cauda Equina Syndrome.
Case discussed with GP. given per-rectal exam. anal tone preserved. reduced sensation in saddle anaesthsia.
patient sent to A&E.
Gets an urgent MRI in A&E.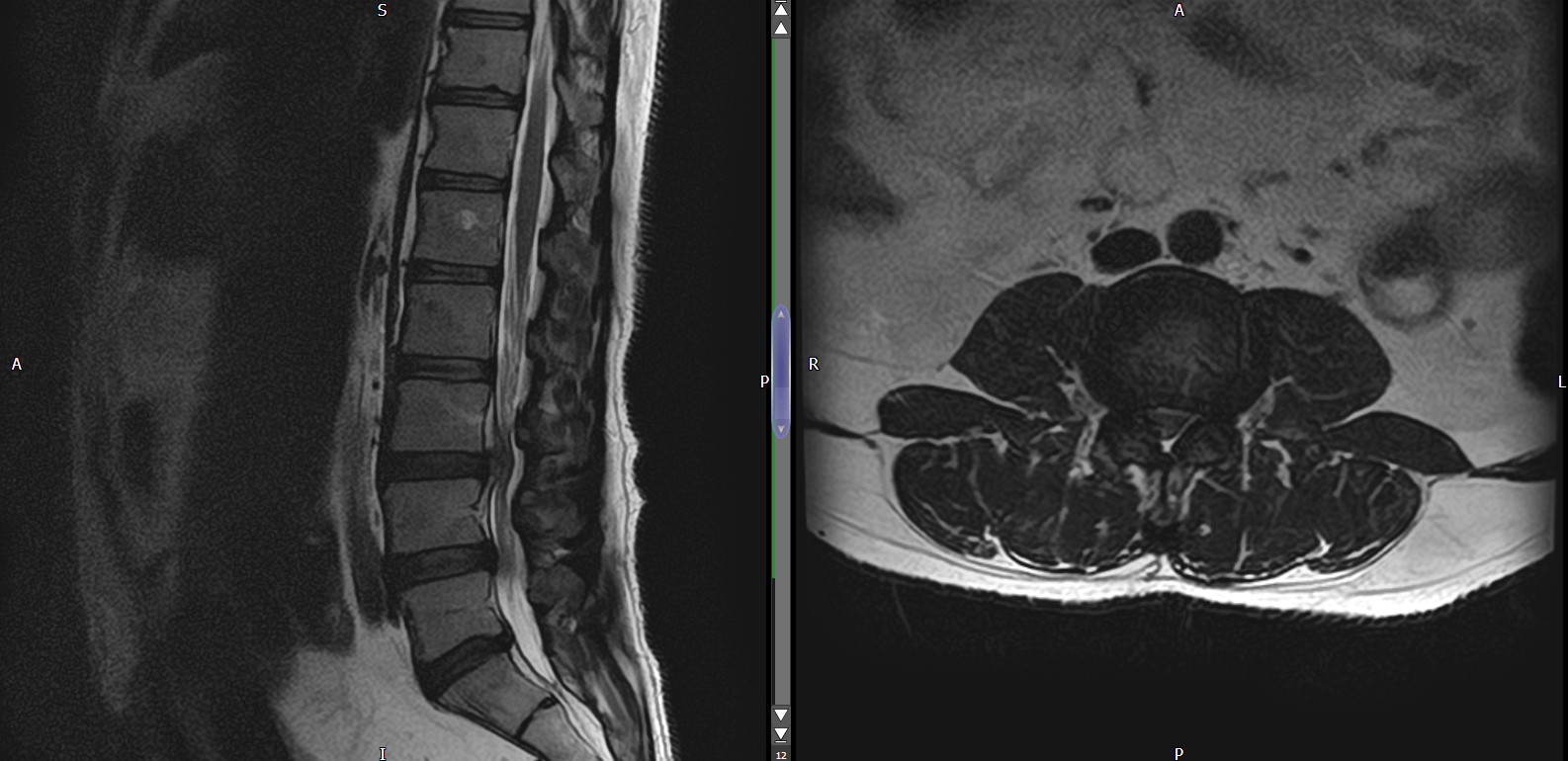 Severe spinal canal stenosis at the L3/L4 level with probable cauda equina compression given the appearances and the clinical history provided.
Undergoes Lumbar decompression + discectomy L3/4 for CES
Post Operative
weak (L) foot - partial foot drop
B/L calf weakness. Cannot do a calf raise
no bowel or bladder incontinence